Product Description
Specifications
ripple crisscross cancellation technology
strict thermal design
amorphous materials reactor-low noise
active harmonic filter
active harmonic filter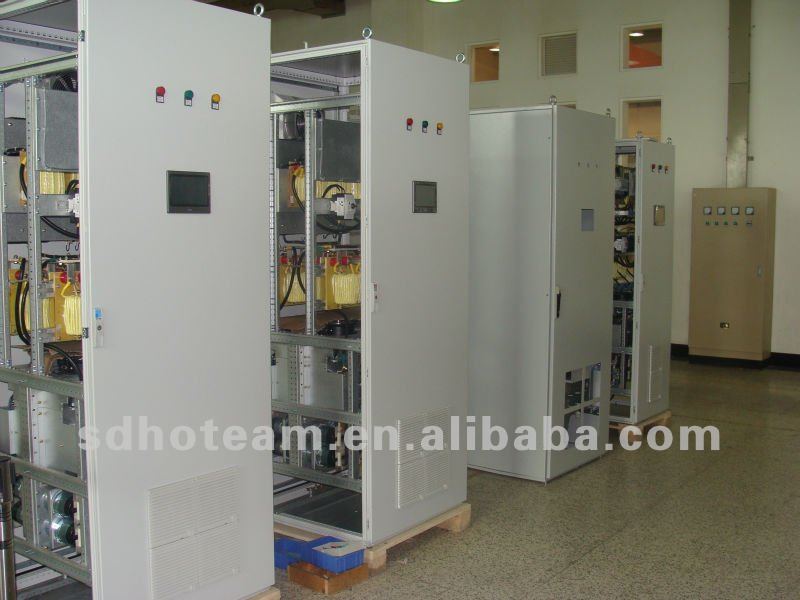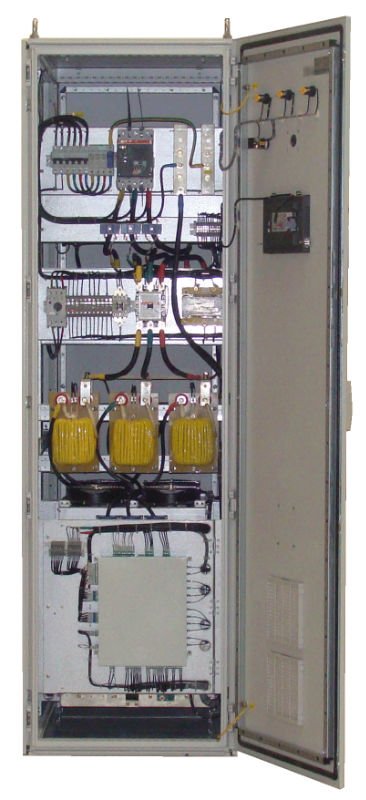 active harmonic filter
Introduction of Functions
Harmonic Filter: HTQF is composed of command current computing circuit and compensation current generating circuit. Command current computing circuit conducts real-time monitoring of current in circuit; switch the analogue current signals into digital signals, and send the signals into DSP for handling; separate harmonics and fundamental wave, send drive pulse in form of PWM signals to compensation current generating circuit; drive IGBT power module, produce compensation current input network which has the same amplitude as harmonic amplitude and inverse polarity; compensate or balance out harmonic current, eliminate power harmonics actively, and thus realize the dynamic quick and complement treatment of power harmonics.
Dynamic reactive power compensation: While filtering harmonics, according to detected need for reactive power compensation, HTQF command current computing circuit can control internal capative and inductive fundamental current of compensation current generating circuit, conduct real-time compensation, set the target value of reactive power compensation through operation board. There are 4 working modes for choice, namely, "filter priority", "reactive power priority", "harmonic filter only", "and reactive power compensation only". The working mode should be selected according to specific conditions of power distribution system.
Correct unbalanced 3 phases: HTQF can compensate the unbalanced 3 phases respectively. It can conduct phase adjustment of active power through DC Energy Storage Systems shared by 3 phases, thus to correct unbalanced load of 3 phases. The operation of this function can also be set by operation board.
The advantages of Hoteam active power filter
1,The main components are all imported famous brands, such as:ABB circuit breaker,Schneider air breaker,German EPCOS DC capacitor,Fuji contactor,Germon Infineon IGBT,USA TI control(DSP)chip and so on, high quality components improved safety and reliability, guaranteed the quality of active power filter.
2,Adopt ripple cancellation converter patent technology(China patent:200910019887.8 ,201010180701,201010503315.X ), high current tracking speed,low ripple wave and power loss.
3,higher stable structure and advanced control method(China patent:201010275272.4 ),this make sure APF can be running steadily in a varity of complex sites.
4,multiple frequency 150MHz 32 bit high speed DSP (TMS320F2812) cooperative work, complete order current operation and system control function in real-time, high control precision,fast speed.
5,DC energy storage capacitor adopts multiple measures, from multi-angles of Brand select,working voltage,over voltage protection,electric buffer resistance,install position to guarantee safe operation and reliability, can effectively prevent from over voltage,over current and over temperature problems, the annual average working temperature of capacitor is under 30°C.
6,Perfect fault detection and protection system, including self-test after power on,alarm and protection of various faults or abnormal events,history event record function, furthest guarantee the safe and steady operation of equipment.
7,add transient voltage suppressor at input circuit, meet requirement of lightning protection.
8,fiber optics drive, safe,reliable,high anti-interference ability.
9,RS485 port, standard MODBUS communication protocol, computer remote control function.
10,can realize dynamice split phase reactive power compensation and three phase unbalance correction function.
HTQF technical parameters
model

HTQF/3L-0.4/xxA 3P3L

HTQF/4L-0.4/xxA 3P4L

feature

Apply to 3P3L system

Apply to 3P4L system, can realize netral line filter

Compensation current of each cabinet

50A

50A

75A

75A

100A

100A

150A

150A

200A

200A

250A

250A

300A

300A

400A

400A

500A

500A

600A

input

voltage

400/600V -15/+10%

400/600V -15+10%

frequency

50/60HZ ±5%

50/60HZ ±5%

Performance index

Filter capacity

Can be more than 97%

Can be more than 97%

Filter range

2~50th harmonic

2~50th harmonic

Response time

Transient response<0.1ms,

complete response<20ms

Transient response<0.1ms,

complete response<20ms

Neutral line compensate ability

----

3 times in line RMS current

Reactive power compensation

Setting range of power factor is from inductive0.6 to capacitive 0.6

Setting range of power factor is from inductive0.6 to capacitive 0.6

Balance compensation

Programmable balance of power

Programmable balance power of phase and phase or phase and neutral line

Overload protection

Automatic current limiting when 100% rating output

Automatic current limiting when 100% rating output

Power loss

≤3% rated compensation capacity

≤3% rated compensation capacity

CT requirements

3set, 0.2magnitude or more,secondary 5A

3set, 0.2magnitude or more,secondary 5A

Current detection means

Source current detection or load current detection

Source current detection or load current detection

Display and interface

language

English/Chinese

English/Chinese

Operating button

Start/stop,reset,menu,confirm,fluctuation function keys and so on

Start/stop,reset,menu,confirm,fluctuation function keys and so on

Indicator light

Green: normal operation

Green: normal operation

Orange: overcurrent/overload operation

Orange: overcurrent/overload operation

Red: machine halt or alarm

Red: machine halt or alarm

Communication interface

RS-485

RS-485

Communication protocol

MODBUS(RTU)

MODBUS(RTU)

digitI/O

4 digital input, 2 digital alarm

4 digital input, 2 digital alarm

configuration

Unit operation

allow

allow

Parallel operation

10 sets at most

10 sets at most

IP

IP3X,(higher IP pls contact manufactuer)

IP3X,(higher IP pls contact manufactuer)

Color

RAL7035(light gray),can be customized according to use requirements

RAL7035(light gray), can be customized according to use requirements

Environment condition

temperature

-10~40°C

-10~40°C

Storage temperature

-25~55°C

-25~55°C

Relative humidity

Max 95%RH(no condensation)

Max 95%RH(no condensation)

altitude

1000m

1000m