Product Description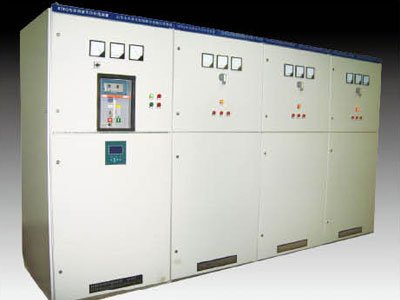 Operation principle
It is consisted by detecting element, main control unit, switching execution unit, tune capacitor bank and human-computer interface. Detecting element detects instantaneous value of system voltage and current on real time. It also calculates control parameter such as reactive power, voltage and current. Main control unit judge logic and give control command. It makes switching execution unit switch passive power filter to compensate on load harmonic and passive power.Main control unit contains zero transition detected control system on real time. It makes sure that capacitor bank will be put in during zero transition process and power off during zero current automatically. No transited destabilization during switching process and avoid inrush current impaction and service overvoltage. So dynamic compensation is on real time, electric stress impaction of thyristor and capacitor is reduced. Equipment's reliability and serving time is increased highly.
Characteristic
1.
MPU is the test and control center. It detects on load reactive power on real time, calculates compensation capacity in high speed, judges and controls according to preinstall switching logic.
2.
Adopt high speed noncontact switchgear made by thyristor, prompt response, high reliability, long service time
3.
Automata tracking equipment switches capacitor bank constantly when system is zero transition, transient time is very short, implement dynamic compensation of reactive power in high speed
4.
No inrush current impact during the process of switching capacitor, no service overvoltage, little switching destabilization, small capacitor bank decay, low error rate.
5.
active response time is shorter than 20 millisecond, power factor dynamic compensation is higher than 0.95, inhibit voltage hunting caused by reactive change
6.
contain harmonic-suppressed reactor inside, capacitor stress is small, no harmonic enlarge and resonance danger, work stably in distribution system with high content of harmonic
7.
capacitor bank switching controller adopts code and cycle working method, switch rapidly and precise, reduce capacitor stress, increase capacitor's service time
8.
implementing split phase active compensation, suited for various kinds of unbalance impact load
9.
Capacitor switching threshold and response time can be programmed, conversion between auto switching control and manual switching control, debug and test easily, wide applicability.
10.
multi hardware and software anti-interference measures, high anti- interference ability, working stably
11.
multi hardware protection such as self-test function, overvoltage protection and over current protection to confirm equipment operate stably
12.
detect system voltage, current, active, reactive and power factor before/ after compensation automatically
13.
digital control and parameter install, Chinese display LCD, RS485 interface, standard MODBUS communication agreement, computer remote monitoring, history recording function
14.
multi module operate parallel, install and debug simply, maintain conveniently
Main technology parameter
| | |
| --- | --- |
| item | index |
| Rating compensating capacity | 100 - 2400 kvar |
| mains voltage | three phase 380V/690V±15% |
| mains frequency | 50/60Hz±2% |
| Power factor | 0.85~1.0(it can be designed) |
| Response time | 20ms—30s it can be chosen by need |
| Power loss | Full load<1.5% rating compensation capacity |
| Noise | ≤60 dB |
| Protection function | Abnormal voltage protection; over load limitation; system error protection; system overheat protection |
| External dimension mm | 1000×1000×2200 standard MNS machine cabinet×N |
| Storage Temperature | -40~85 °C |
| Serving temperature | -25~55 °C |
| Relative humidity | ≤95%,not condensation |
| altitude | Reduce rating capacity in higher altitude |